Sara Montiel in Mexico
1956
The last couplet
1957 (uncensored cover)
Dance with Sara Montiel
1958 (Called "Kiss Me!" US)
Kiss Me!
1958 (called "Dance with Sara Montiel" in Spain)
The Violetera
1958 (There were several covers)
The violetera
1958 (another covers)
Sin of love (2)
1961 (another several covers)
The queen of the Chantecler
1963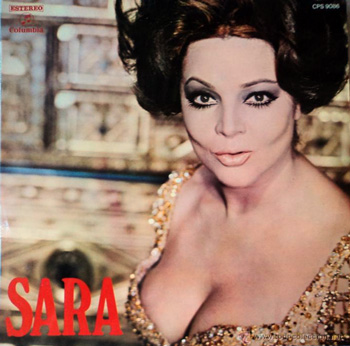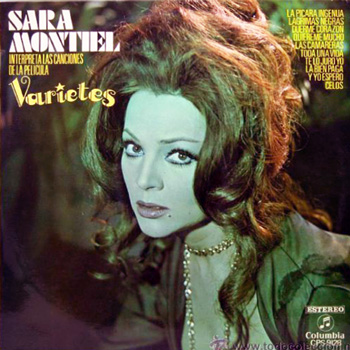 Touch me
1977 (easy 45 rpm)
Every night at eleven
2003
BSO Bad Education
2004 - ( 2 songs in her voice on the soundtrack )
Absolutely
2009 (collaboration with Fangoria)
The Violetera
As a singer I had great success in his career, especially when returning to fashion the couplet with his singing, so that their albums were published in various European and American countries, from Russia to Brazil, and she went on to sing in Greek. The huge influence record sales, definitely, Sara Montiel that kept true to the genre of musical theater during the last fifteen years of acting career. The success of his first album, The last couplet, he took all by surprise. Sara had signed with the company posting the Columbia soundtrack, agreeing to pay as a percentage of sales (royalties). This was decided on the assumption that the disk would discreet welcome; but it ended up being a best seller, so that the singer felt a fortune.
Breaking with the tradition of high-pitched voices imposed by Raquel Meller and other performers of the genre, Sara sang with a more serious tessitura, similar to the de alto. His voice was not powerful, but well toned, velvety and very suggestive, a strong personality that made her instantly recognizable. Of the songs performed in the last couplet was highlighted "I hope smoking", with Sara Montiel finished identified as, from adolescence, He practiced smoking, a habit frowned upon today, but then it was considered as stylish. Among his most memorable performances are also counted: "The reliquary", "The Violetera", "Black Tears", "Kiss Me a lot", "Perfidy", "Valencia", "Tattoo", "Green eyes", "The polichinela"… Many of these songs were classics decades ago that she updated with his unmistakable voice and an unusual sensuality in Spain.
Sara Montiel – Kiss Me a lot
As his latest film, Five pillows for one night (1974), He did not get the success of previous, Sara left the theater and went out to give shows in theaters, an already common option among foreign artists such as Marlene Dietrich, Judy Garland y Eartha Kitt. Doña Sara de la Mancha, Saritísima or Saritízate are examples of the many theatrical performances presented successfully. Sometimes he collaborated with other senior figures as Josephine Baker, Olga Guillot and Celia Gámez.
«Saritísima» I was active in the music world until his last days. In his classic repertoire he joined in the early 1970 bolder themes, as "I like you calm" (adaptation of a poem by Pablo Neruda) and sensual song "Touch Me". His albums Purísimo Sara (1988) and Under the Skin (1991) They gathered expressly made for her compositions as "Bolero triste" Joaquin Sabina, "Ay, what the hell!" José María Cano, the driven pop song "Dare again" Carlos Berlanga y Nacho Canut, "Fúmame, fúmame" team composed by Sabina, Antonio Carmona and Javier Gurruchaga (who recorded a duet with Sara), and tango "Macho" Oscar Gomez. Later the veteran star was less successful forays into music rhythms younger (it came to making rap), so well 2009 He triumphed again: to the 81 age recorded with the hit song duo Fangoria "Absolutely" and its corresponding Clip.